2011 Easter Seals NB Ambassador - Noah Folz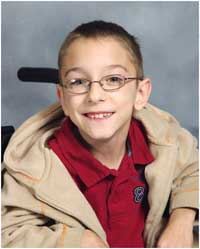 Noah Folz is the Ambassador for Easter Seals NB. He is 10 years old and in grade 4 in Oromocto, NB. His favorite subject in school is art. Noah loves soccer and video games. Noah was born with cerebral palsy and uses a wheelchair for mobility.
Noah is also a participant in the Easter Seals Abilities Program, a sports based program for children with physical disabilities. His favourite sport so far has been adapted downhill skiing because "I get to go down the hill REALLY fast!"
Noah has also attended Rotary Camp. He had a great time and would like to invite his friends from the Abilities Program to come this summer, 2010.
In 2009, Noah had the opportunity to attend Camp Rotary for the first time. Camp Rotary is a residential camp for children and adults with disabilities run by Easter Seals NB. Noah got to meet new friends, canoe, and try new activities.
Noah wants to tell the world that having a physical disability doesn't stop him and he can do a lot of fun things too!
---
2011 Easter Seals NB Ambassador - Amélie Archer

Hello Everyone!
My name is Amélie Archer and I live in Shippagan. I have cerebral palsy. I am a grade 11 student at Marie-Esther School. Later on, I'd like to become an architect. I love to draw and dance. I'm really happy to be chosen as Easter Seals NB ambassador for 2011.
Amélie
---
2007 Easter Seals NB Ambassador - Brandon Liston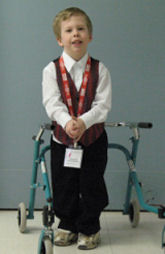 Hi, my name is Brandon Liston and I am 7 years old. This is my second year as the Ambassador for Easter Seals. I was born with Cerebral Palsy and have limited use of my legs, but as you can see it doesnt stop me. Im in grade one now and some day I want to be Premier, but for now I am happy being Ambassador and attending fun events like this one. Easter Seals gave me this walker and other equipment too. Please help Easter Seals help other kids like me. Thank you for supporting Easter Seals and opening doors for kids with a disability.
Sincerely,
Brandon Liston
---
2005 Ambassador - Katie Woodman
Hi! My name is Katie and I'm in grade five. I love watching and playing sports, drawing, and music class. Easter Seals has provided me with much of my mobility equipment, including a wheelchair, tricycles, and a wheelchair ramp for my school. I'm really excited to be the New Brunswick Easter Seals Ambassador, and I will really enjoy meeting people like you who support Easter Seals NB.
It is important to me that you continue supporting Easter Seals, as when you do, you are helping me and my friends live a more independent, worry free lifestyle. Thank you from myself, and all my friends at Easter Seals New Brunswick.
Sincerely,
Katie Woodman
---
2004 Ambassador - Jessica Murray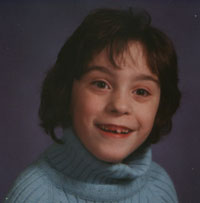 Hi my name is Jessica Murray and I am the Easter Seals Ambassador for 2003-2004. It is very exciting to do this job because Easter Seals has done a lot to help my family and me. This year Easter Seal Society is helping to send me to Camp Rotary. My friends from Easter Seals, and the New Brunswick Forestry Industry and I would like it if you would support Easter Seal Kids of New Brunswick.
Your Friend,
Jessica Murray
---