Easter Seals Launch at the Government House
February 29 2016
New Brunswick's Lieutenant-Governor invited Easter Seals board members, staff, friends, stakeholders and Rotarians, to the Government House to celebrate March as Easter Seals month. For 50 years Easter Seals has launched its campaign in the spring to raise money and awareness to support people with disabilities in New Brunswick. The Honourable Jocelyne Roy Vienneau accepted this year's seals as Honorary Patron of Easter Seals from Brandon Liston, the Ambassador for Easter Seals Canada and New Brunswick.

"Easter Seals makes a difference for many in New Brunswick," said Roy Vienneau, "Easter Seals is a guardian."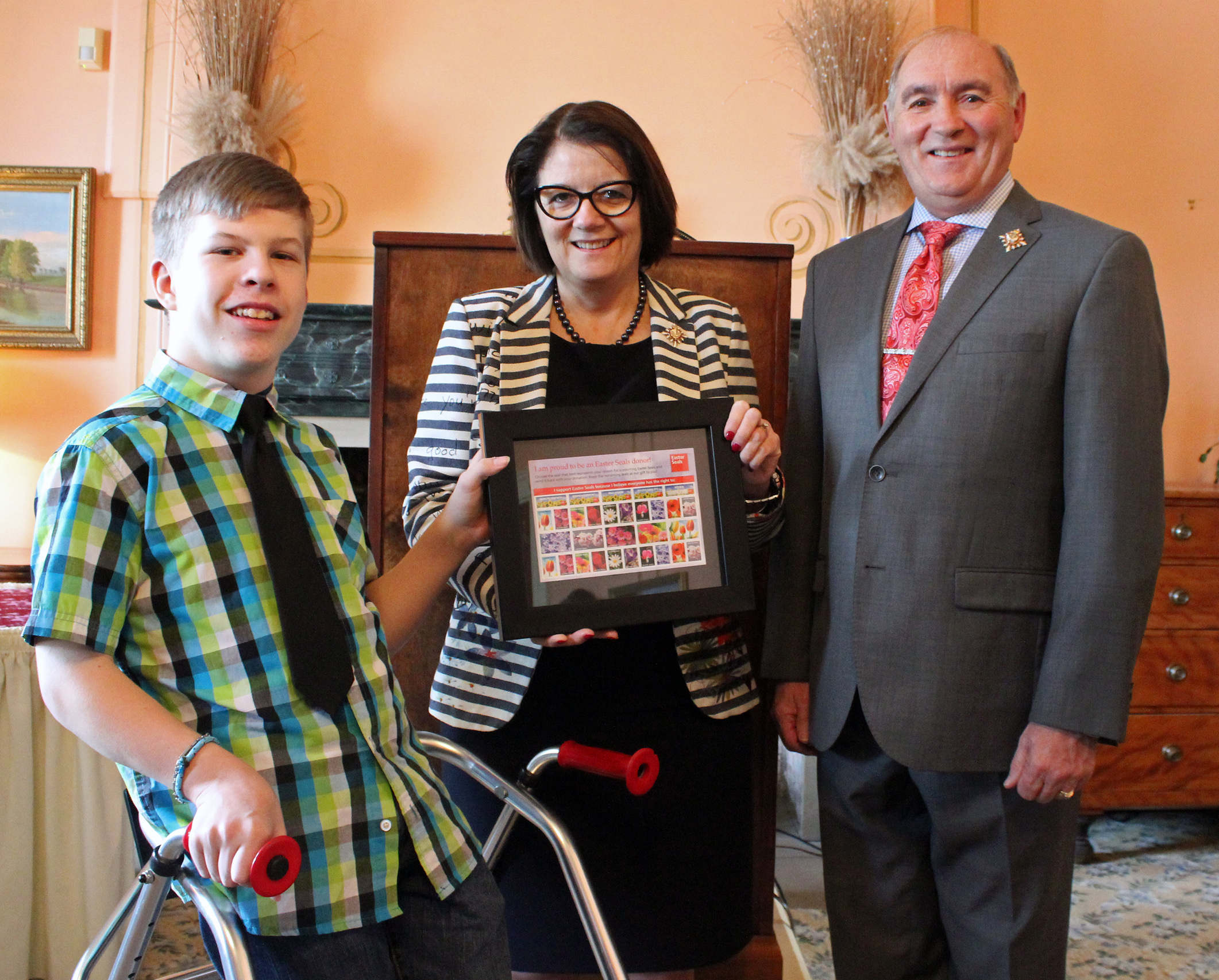 (Left to right) Brandon Liston Easter Seals Ambassador, The Honourable Jocelyne Roy Vienneau, Lt-Gov of N-B, and His Honour Ronald Vienneau.
The first Easter Seal appeared in a mail campaign in the U.S. in 1934. The seal is used at Easter time because the theme of resurrection coincides with the rehabilitation of children.
"This campaign helps people, just like me, with disabilities and I'm thankful for all the support," said Liston.
Easter Seals takes the month of March to shine a light on the essential services they provide to the community:
Equipment Recycle program – refurbishes and loans over 5,000 pieces of specialized mobility equipment annually
Assistive Technology Program provides technological equipment in the schools and community
Toy Library Program provides specialized toys on loan to parents
The fully accessible Camp Rotary grants hundreds of people with disabilities in New Brunswick the opportunity to benefit from an authentic camp experience
The Abilities Program engages youth with physical disabilities in a variety of recreational activities including Sledge Hockey and Wheelchair Basketball
All of these programs are directed specifically toward individuals with disabilities and rely on the support of the community for their continued implementation and success.
Easters Seals New Brunswick encourages anyone who would like to know more about these programs and services to contact the Fredericton office at 506-458-8739.